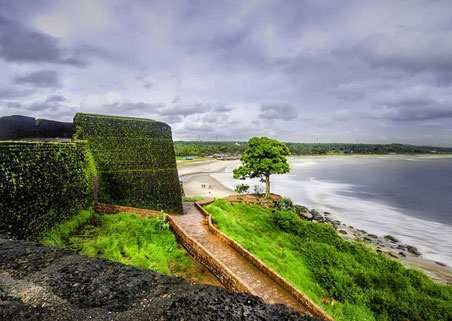 Bekal Fort is located 16 km south of the district at the northern end of Kasaragod district. One of the largest forts in India, it has been well maintained for years. Situated at an elevation of 130 feet above sea level, it is an important land area of ​​35 km.
Bekal Fort Beach is a beautiful beach. Large numbers of people flock to these places. Situated on the steep hillsides of the sea, the fort offers a magnificent view of the beach. Made with lateral slabs and polygonal shape, it is one of the most visited sites in Kerala.

There are many factors that have increased the popularity of the site. The main attractions include an observatory tower with beautiful peepholes, the famous carved Anjaneya Temple, and two late-themed sculptures. An ancient mosque built by Tipu Sultan and various underground passages in the area are prominent.
A rock garden was built in the parking lot and architectural marvel of laterality. Trees are planted on the beach along a beautiful walkway, making it easy to walk along the beach and enjoy the views. At night, the whole place is lit up with special lights that give it a new dimension to its beauty.

If you would like to participate or explore this one Raintree Holidays kerala will organise the same with Kerala Tour Package. Raintree Holidays offer very good Kerala Tour package with leisure tour.